I totally geeked out over this and will continue to do so!
(sounds of geeky, rapturous joy combined with wiggly dance moves)
This was an incredible show with one of the most talented performers I have ever seen.
If you are like my friends you will be asking, who is Terry Fator? (Philistines) But if you're cool enough, you can skip the next little bit.
Mr. Fator, though a long-time performer, was unappreciated until he won America's Got Talent in 2007.
Terry Fator takes his spectacular singing voice to the next level not only mirroring the voice talents of dozens of past and present popular singers, but doing it without moving his lips! He's the ultimate ventriloquist and he shares the spotlight with his puppet friends in such a fun, engaging manner that the 2-hour show flew by and was over before I knew it.
The way I described it to my uninitiated friends is that it's a variety show with comedy and music. But Mr. Fator's voice talents and unflagging energy make it so much more than that. This particular show was a fun trip down memory lane telling us the story of how he got to where he is, headlining in his very own Las Vegas show. Along the way we were treated to the sounds of Ed Sheeran, Passenger, Garth Brooks and George Strait, ZZ Top, Frank Sinatra and Dean Martin (one of my favorites!), Roy Orbison and more. Interspersed throughout were some moving personal anecdotes about his journey to stardom along with comedic bits from himself and his crew and, can't forget, his puppets! We got to meet Winston the Impersonating Turtle and Maynard Thompkins--the World's Best Elvis Impersonator (ha!), sweet little Emma with the big girl voice, and Duggie Scott Walker the Annoying Neighbor. Monte Carlo crooned to us and Walter T. Airdale fascinated us with his really fast yodeling.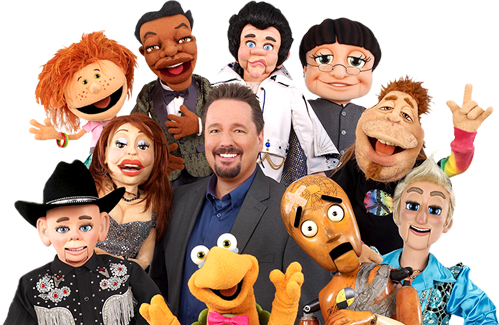 Really, I can't express how fantastically awesome it was to sit and watch this amazing man work his magic.
And a conversation with a nice older couple after the show left me feeling even more impressed.
Towards the end of the show
Mr. Fator
asked that all current and former military members stand up to recognize their service to our country (not unheard of from a celebrity but always appreciated). He then let the audience know that 100% of the profits from the souvenir sales (sigh, I resisted getting my own Winston) would go to fund organizations like the
Wounded Warrior Project
and others. That is admirable.
But the more personal touch came from the older couple who were sitting next to me.
--Now, I should mention that it's no picnic to sit next to me while excellent music is playing. I chair dance like a champ and the smaller-sized seats in the Inn conference room/theater do not leave much room for shifting much less chair dancing. I had to apologize to the gentleman to my right who I hipped a couple of time in the first number but he seemed tickled that I was enjoying myself so much. The lady to my left whose thigh was taking over a third of my seat wasn't quite so sanguine but I'd paid for that little seat sans extra leg and I felt I could jiggle to my heart's content, if she didn't like it, she could shift over (which she eventually did)--
After the show, we were expostulating how wonderful it was and how talented Mr. Fator is and they told me they'd driven over from Amarillo for the weekend for the show and that this wasn't the first time they'd been able to see him. They'd seen him years ago playing a county fair in Texas! They've been wanting to see him again for years but even after 2 trips to Las Vegas, they hadn't been able to get tickets until they saw the flyer for the Inn of the Mountains Gods and... voila, a birthday celebration to bring them from Texas to New Mexico to see their favored artist.
Now, that kind of long-term loyalty makes Terry Fator even more fantastic in my book.
If I had more thumbs, I'd give them!