I just had the most fantastic, spectacular, AWESOMEST weekend ever!!!!!
What could possibly engender that reaction?
Skydiving?
No
World Cup tickets?
No
Book Marathon (would have been close)?
No
I went to... insert dramatic pause here or listen to this:
You can stop laughing now.
Because I seriously enjoyed it that much!
If you've never heard of the Santa Fe Opera, you are in for a treat. It is an open air world-class opera house, like none other. Here are a couple of pictures so you can get the idea.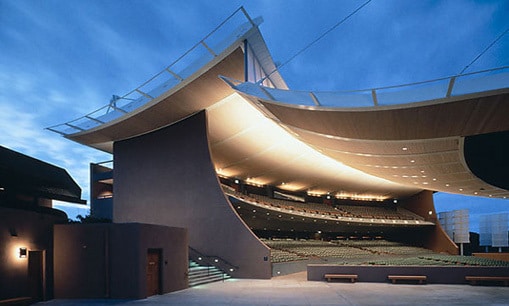 The performance started at 8:30PM just as the sun went down and it started to get dark. I was thrilled to see the silhouette of a bird as it flew across the exposed skyline just above the stage as the show began. There was a full orchestra in the pit with just the conductor's head peeking out as the fantastic music started. Having never been to an opera or an open air theater such as this one, I wasn't sure what to expect in the way of sound levels. It definitely wasn't like the overpowering sounds of a movie theater where it seems like myear drums are throbbing and trying to meet in the middle of my skull. But I never had to strain my ears for the sounds of the music, either. The acoustics were fantastic for both singers and musicians and the over-dramatic story line proceeded without any faults.
The story of Rigoletto is an over-the-top fictional account of a hunch-back court fool and his daughter... kind of. I'm sure you can draw as many pseudo-valid sociological points as you want from this drama but I thought the characters were so awful, it was hard to feel sorry for them. But the performers did a fabulous job portraying the story in all its glory. And the backstory of the original performance is entertaining as well.
Long story short (too late, I know) I would absolutely recommend and encourage you to give the opera a chance. I love singing, classical music and live performances and this combined all three of those into a wonderful experience that I will treasure for a long time to come.