Hollow City—The second book of Miss Peregrine's Peculiar Children by Ransom Riggs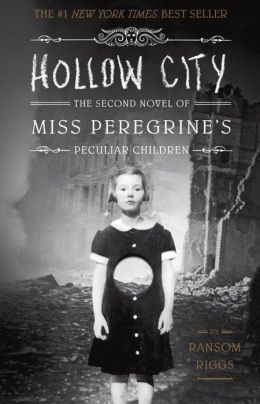 So, ever finish a book and want to throw it across the room?
That was my reaction to
Hollow
City
. I had eagerly awaited it while it was on hold at the library for me, having finished the first one about a month ago. I really enjoyed it without expecting to (
see review
) and was happy to get the second book.
Why violent reaction, you ask?
--Spoiler Alert (kind of)—
Because it's actually the second book in what is becoming a series! So while I got excited that the characters were developing and making progress, I neared the end of the book thinking, "Hmm, there seems to be a lack of closure. Maybe this is one of those books that hits the climax and the resolution is only 1 or two pages." But I got closer and closer to the end until
*BAM*
, the last page sounded the knell of doom: "DON'T LOOK AWAY: The next volume of the Peculiar Children series is coming soon."
Gaaaah! I don't want to have to wait for the next one to find out what is going to happen next because it left on a cliff-hangar.
Oh well, I'll just have to wait it out until the next one comes out—whenever that is because I can't find it listed. The first book was published in 2011 and the second in 2014—I might have some time to wait.